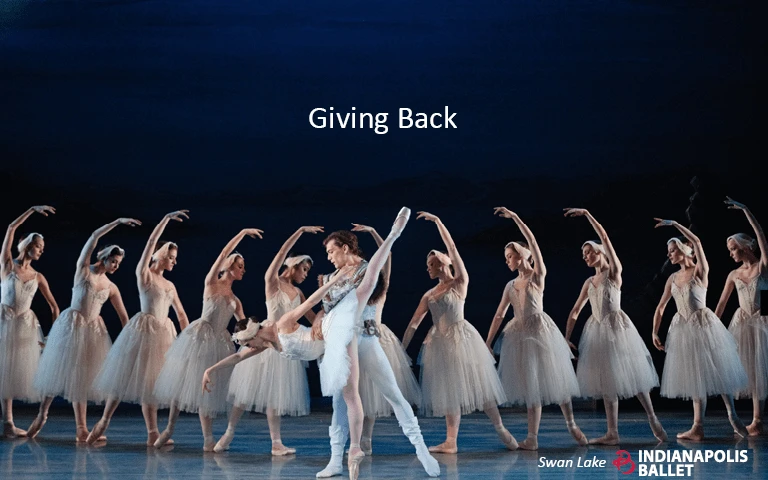 Ralph Waldo Emerson said, "To leave the world a bit better, whether by a healthy child, a garden patch, or a redeemed social condition; to know that even one life has breathed easier because you have lived – that is to have succeeded"
I read Emerson's words and think of my grandparents. I found them so interesting! Much of who I am today and the lessons I've taught my girls, came from them. Work ethic and giving back are big parts of our lives.
I joined the board of Indianapolis Ballet because I wanted to help grow the organization and in doing so, improve our community. This year our company, CAIRS Solutions, adopted a dancer. While it's a nice coincidence that it's called "adoption," that had little to do with our decision to take part in the program. Our sponsorship is more about recognizing excellence.
By the time dancers turn 18, they have practiced classical ballet technique for over 10,000 hours. The writer Malcolm Gladwell says you become a master of any discipline if you practice something for that long. In ballet, mastery gets you to the entry level to begin your professional career and continue learning every day. That's impressive dedication! In a school of 250 dancers, maybe only a handful dance professionally. The rest go into the workforce with a deep understanding of what it takes to be excellent. What great people to have in our workforce!
Quality of performance is another reason we support the ballet. This April, we staged Swan Lake. The production is three acts and the total running time is about two hours. At one point in the first act, I lost all sense of time and space and became engrossed in the story and artistry of the performance. That is transformative! I wasn't thinking about work, chores, or current events. I was living in the moment and it felt great! What a wonderful experience to share with friends. What an excellent organization to support.
Giving back, practicing gratitude, those can be transformative too. We raised our kids in this community. My kids and I have had a great life here. So much of this life is out of our control. Choosing to give back, practicing acts of kindness is something that we can do. In doing so, we feel a sense of joy and deepen that sense of belonging. To give is to get.